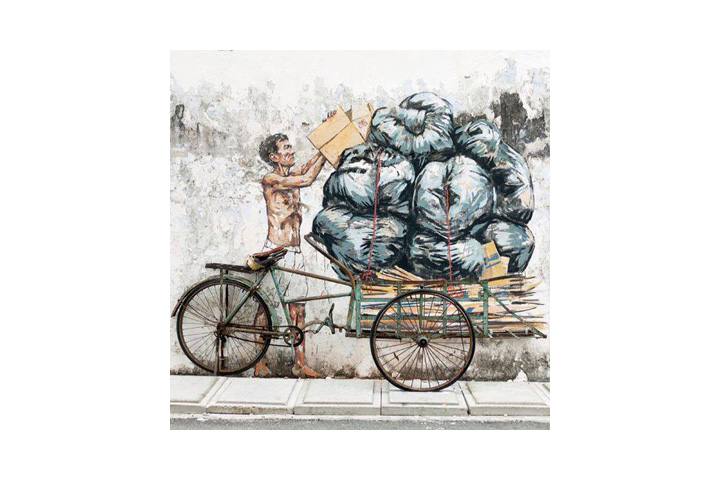 25 Jun

Who is Ernest Zacharevic?

Ipoh has traditionally been left out when it comes to attracting more people to appreciate the food, lifestyle and even the sights around this Perak Capital. We thought that many business owners were left to their own devices when it came to promoting Perak. We used to gawk at other bigger cities like Kuala Lumpur or Penang, in comparison to this small town. Recently however, with thanks to Oldtown White Coffee Berhad, who commissioned Ernest Zachrevic to come and do a some of his now famous murals / graffiti in Ipoh. So who Ernest Zacharevic?

Of late, Ipoh has been creating quite a stir among the hipster crowd with its boutique hotels and quirky cafes. Yesterday, the former mining town upped the game when OLDTOWN White Coffee unveiled a series of murals painted by Ernest Zacharevic around Ipoh's old town, creating a huge buzz in the process.

The murals have all the whimsical qualities Zacharevic's wall art is famous for; there is a hummingbird, an old man drinking from a traditional coffee cup at the side of an OLDTOWN White Coffee branch facing the Ipoh Padang, two children sitting on a paper plane, three packets of "kopi-o" and one of how Ipoh has evolved from its tin mining days.

"Ernest himself is a famous artist in Malaysia. We know that he can spell out the lifestyle, and also the culture, the heritage of the particular town that he goes to. "He can relate well with the culture, the lifestyle of the people in this town," OLDTOWN Berhad chief executive officer Alex Chuah said at the launch.

Lee Siew Heng, the group managing director of OLDTOWN White Coffee said the murals "is our way of recognizing the heritage of Old Town, Ipoh, the place where OLDTOWN White Coffee originated from." For the full article please click here.
---
---
---
---
---
---
---
---